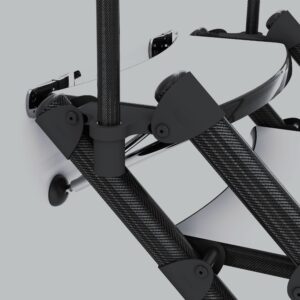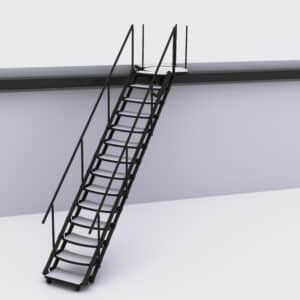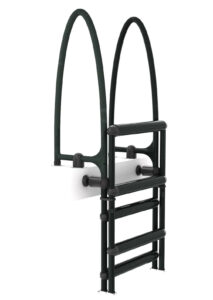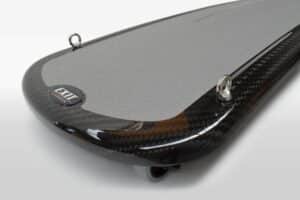 Exit Carbon will present its high-end carbon products, with new improvements and some amazing new options and configurations at Boot Dusseldorf 2023, Hall 11 Stand C49.
Exit Carbon presents at Boot 2023 Pollock, the new boarding ladder in carbon:
Pollock was designed as the widest carbon boarding ladder in the world, at 65 cm real width, while being lighter than competing stairs.
The optional carbon fiber handrails are positioned on external supports, leaving the steps surface completely free to walk on. Despite the smooth curved plan of its steps, they couple perfectly with each other when the stair is horizontal, transforming Pollock in a flat passerelle.
Pollock is available from 4 to 14 steps, and can be equipped with a wide rotating turntable on top, the Turner platform. It presents a whopping 85 cm diameter and the capability to be installed more than 35 cm from the ship edge, with the support strut touching the hull more than 50 cm below the platform level, in case there is a big bumper below the entrance.
Our Giotto Swim Ladder will be finally available in a folding variant, with the bottom 3 steps hinged, to be pulled out of the water during sailing.
Our Dalì swing back swim ladder is now available with a new quick release system allowing instant detachment from the stern, with minimally invasive brackets on the boat.
A wide range of new fittings and options is now available for the Helios Sun Awning System, permitting many more different installations.
The Magnifico Tender Fender has a new fitting system. It doesn't require a stern fitting anymore, being locked completely on the deck, without losing any safety.
All our wheels are now available with the new polished and extremely durable carbon finishing, which many customers judged better looking than the now optional clearcoat.
Our classic range of super light gangways is enriched with new options.
There is a lot to see and to discover: visit us at Boot 2023,  Hall 11 Stand C49.